And Now For Something Different – Rosaries
Have you heard? Rosaries aren't just Catholic anymore. Prayer beads are used by the Eastern Orthodox, Anglicans, Buddhists, and others. Much of art in history has been dedicated to religious themes, and Rosaries stand out as accessible art for the layperson, and can range from simple and inexpensive to elaborate and pricey.
The typical Catholic Rosary consists of five 'decades' of eleven beads, plus a crucifix and five additional beads, often accompanied by a rosary center dividing the loop of the five decades from the crucifix and five additional beads. Rosaries can also be simple strings of knotted cord. Often medals or other devotional items are also strung on the Rosary.
However, many variations exist. Some stings of prayer beads devoted to specific Saints consist of differing numbers of beads. Greek 'Komboskini' and Russian 'Chotki' Rosaries can consist of 25, 33, 50, 100, 103, 150 or 300 beads. 'Mala' beads are sometimes used in Buddhist meditation and are often 33 or 109 bead strings. 'Anglican Prayer beads' are often strings of 33 beads, one for each year of Christ's life.
Prayer beads and Rosaries span many faith traditions. The internet has made beautiful designs and homemade strings widely available.
One great resource for prayer beads is
The Rosary Workshop
from Michigan. The site contains historical information, a Rosary timeline, and many beautiful Rosaries and sets of prayer beads to choose from.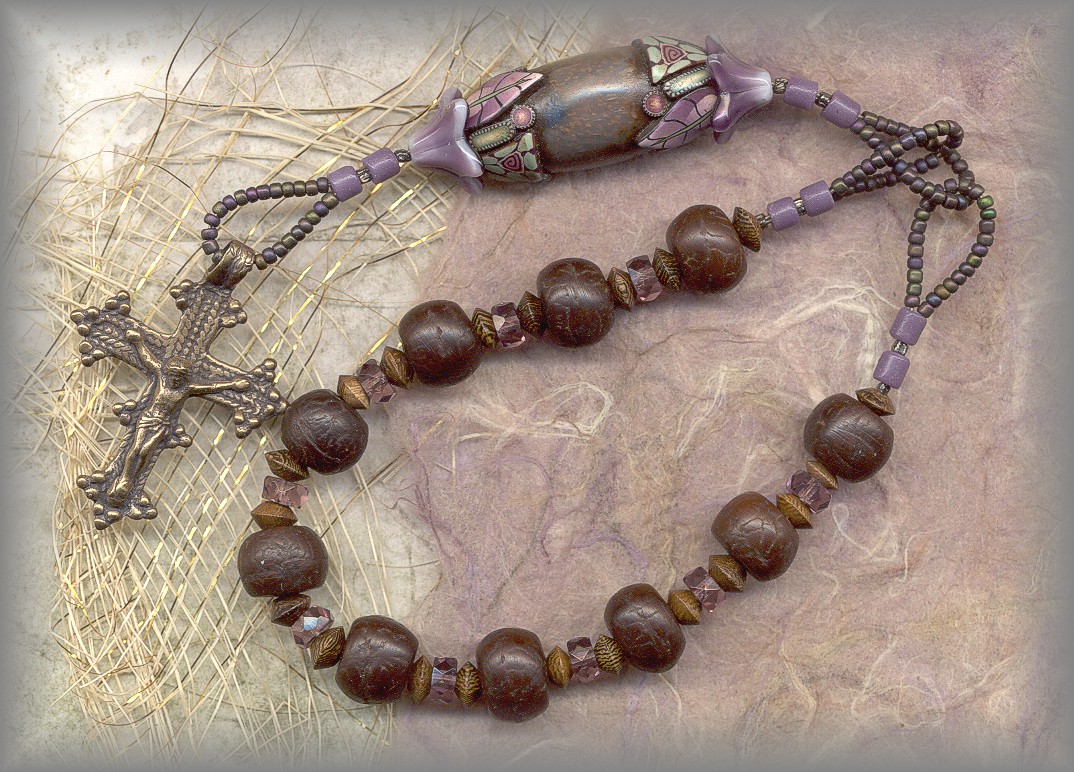 I purchased a eleven bead Chaplet with ten bhodi seeds, one bone pater bead, and a crucifix of Ethiopian design from them, and it turned out great.
Another source I have purchased from is
ViaRosa.com
. ViaRosa specializes in Irish and Celtic inspired Rosaries and Chaplets.
The Irish Penal Rosary I purchased from them is not unlike the one pictured above, but is straight rather than round. One end holds the Irish Penal Cross, and the other is a brass ring. The beads are round Connemara marble rather than jasper like the one in the picture, but mine retains the jade Irish Rose pater. All of their designs are inspirational.
Prayer beads are among what has been called 'Pocket Art' by Walter Mosley in his essay on NPR on 11/20/2003. Pocket art consists of portable objects one can carry easily, to share and enjoy wherever one may be. Look up the transcript on NPR, and consider starting a pocket art gallery of your own, beginning, perhaps, with some handmade prayer beads.
Categories: EverythingElse